Tennis Court Construction Swindon
For all your tennis court needs, call us today to arrange your free quotation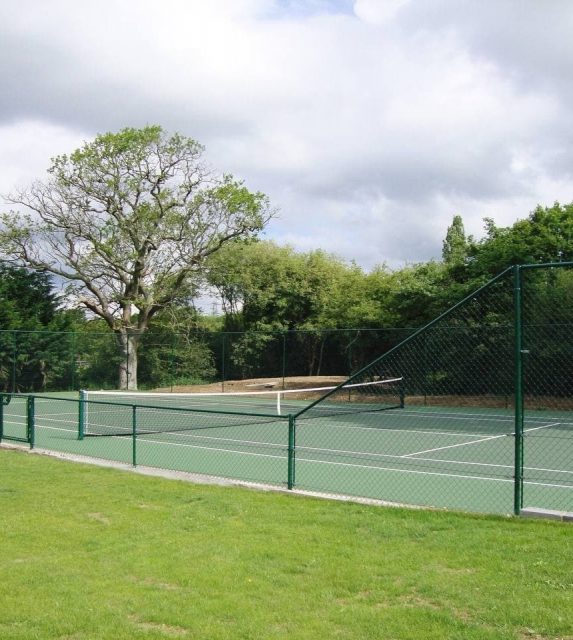 Tennis Court Builders, Swindon
As a professional tennis court construction company covering all of Hampshire and vast areas of Surrey, Sussex, and Dorset, we understand the importance of offering a high-quality professional service to all our clients.

Whether you are looking for a complete new court construction or even refurbishment and maintenance works, we are here to help. We cater to both residential and commercial clients and can take on all projects ranging from a residential playing area to multiple courts in a large country estate.

Maybe your existing court has become tired and now needs some TLC; if this is that case, and you want to start taking full advantage of it but are unsure where to start with the necessary repairs; we can help you to get your court back in full use in no time!

We can also carry out MUGA construction; please get in touch to discuss your needs and arrange a free onsite survey.

Our main goal is always to provide our customers with a service that is second to none. You will find us honest, transparent, offer fair and competitive pricing, and dedicated to any project we undertake. We have many years of combined experience, and whatever the works required are, we will know exactly what to do to make sure your dream court becomes a reality!
New Tennis Court Construction Swindon
A tennis court is something that has so many benefits. Along with promoting a healthy lifestyle and offering you, your friends, and your family the opportunity to enjoy time together, it can also add value to your property.
As with any project of this size, it is essential to make sure that everything is planned out from start to finish. This is where we can help. From initial survey to project completion, we can take care of everything and ensure your new court is delivered to the highest possible standard.
Many things need to be considered before site build commences. These include things that are sometimes overlooked, such as making sure there is suitable drainage and also making decisions on the court ground finish, fencing type, and spotlight requirements, to name just a few.
We will be able to fully advise you of all of these things when we carry out an initial survey. It will allow you to express any requirements or concerns so that we can make sure everything has been addressed and all your needs are being met.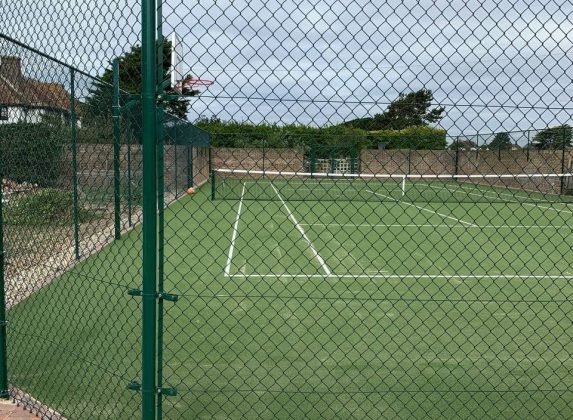 MUGA Pitch
A MUGA (Multi-Use Game Area) court is a fantastic option for anyone looking to have the opportunity to play multiple games such as basketball, tennis, netball and football. They have become increasingly popular recently.
MUGA is a service that we offer, and we can take care of all your construction requirements from start to completion. Maybe you need a resurface or even a complete new court? We will make sure that your needs are taken care of swiftly.
Tennis Court Resurface
Over years of usage and being open to the elements, a tennis court will naturally degrade, and resurfacing works are inevitable. If you find yourself in this situation, we are here to help you get your court back to looking like new!
To completely understand what works are necessary, we can carry out a free onsite survey. This is an opportunity for us to see the extent of resurfacing required and also for you to discuss your requirements and concerns. There are also upgrade options available, including things such as new fencing or floodlights, etc. The possibilities are endless.
We will always do our utmost to cater to your exact needs, and you can rest assured the advice we offer will be tailored to your courts' specific requirements. All works are carried out in the most professional manner possible.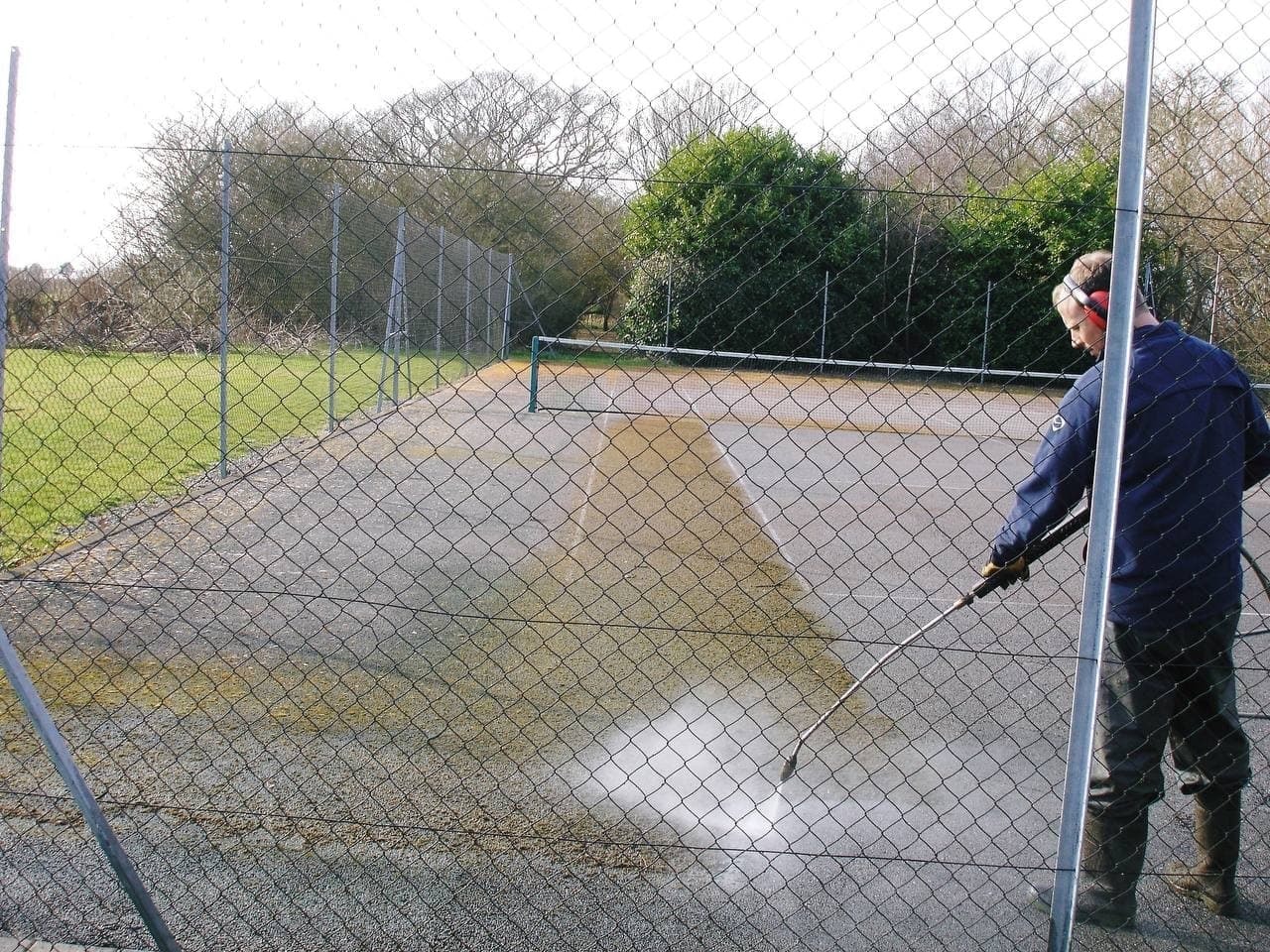 Other Tennis Court Services
If you are considering new fencing or floodlights, then we can help. Or maybe you have a specific niche requirement that you are unsure of as to whether it is possible. Please get in contact with us to discuss, and we will do our utmost to make a plan of action to address all of your requirements.
Along with installing tennis courts, we can also offer landscaping while constructing your new court. Please make an appointment to arrange a site survey and best advise you of how we can help meet your needs.
Tennis Court Installation
We understand that tennis court installations can be expensive, and the decision to install one cannot be taken lightly. That is why we are here to reassure you at all stages of your build and answer any questions or concerns you have at any point.
A quality tennis court is an investment; however, it cannot be purchased and forgotten. Things that need to be considered at the survey stage include:
Is the location you are proposing correct for the court?
Does your chosen surface type suit your play style?
Is there enough space available for you and your friends and family to play comfortably?
The planning stage really is crucial, and this is where we can listen to all your needs and best advise you of what is most suited. Every court installation that we undertake will only be carried out to our strict standard to ensure that you are getting something that you can enjoy for years to come.
Unlike some companies that will try and upsell their tennis courts, we believe in offering what is suitable for the customer, and in some cases, that ends up being the cheaper option for them.
Tennis Court Construction Near Me
We cover a large area and are used to travelling! This includes Hampshire, Dorset, West Sussex, parts of East Sussex, and Surrey. If you found us by searching for ' Tennis Court Builders near me, ' then we will most likely cover your area.
Please feel free to call or message us anytime to discuss your needs and arrange a free onsite survey.
Our Tennis Court Services
New Tennis Court Construction
MUGA Court Construction
Tennis Court Resurface
Other Tennis Court Services
As well as serving Swindon, we also serve clients in Winchester.