Tennis Court Construction
For all your tennis court needs contact us today!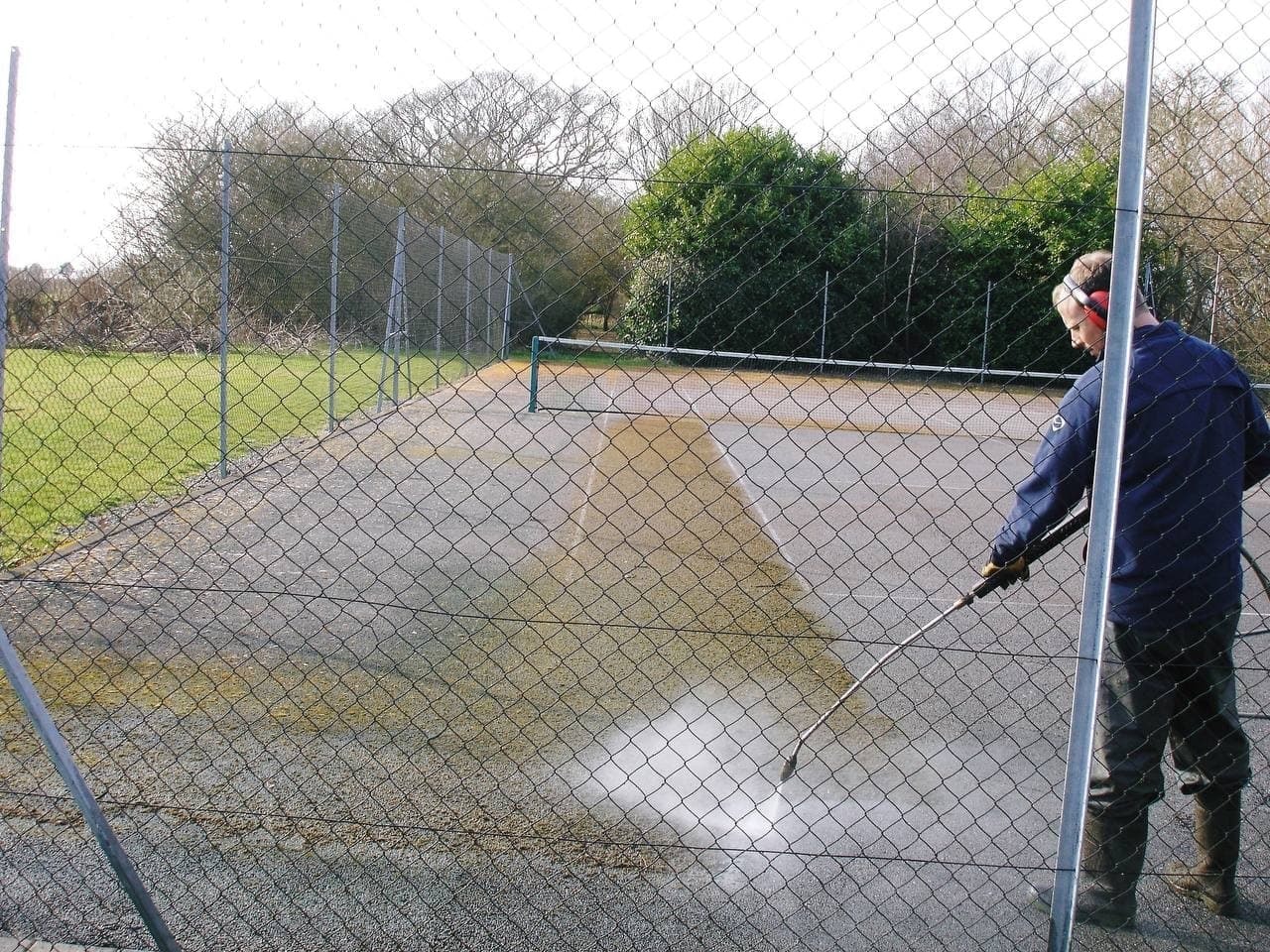 Tennis court repair | maintenance
If you are considering new fencing or floodlights, then we can help. Or maybe you have a specific niche requirement that you are unsure of as to whether it is possible. Please get in contact with us to discuss, and we will do our utmost to make a plan of action to address all of your requirements.
Along with installing tennis courts, we can also offer landscaping while constructing your new court. Please make an appointment to arrange a site survey and best advise you of how we can help meet your needs.
Tennis court floodlights
At Tennis Court Construction Portsmouth, we make sure that we provide you with quality products. We understand how important lighting is for your tennis court and we only use the best. The first thing you need to consider is what type of light will work best on your court. There are two types of lights: Permanent and Portable.
Permanent lights, as their name suggests, are fixtures that remain in place on the court. A permanent fixture will create a better light environment for tennis spectators and players alike. They can be attached to walls, roofs or even mounted on poles with the correct fittings.
Permanent lights must meet specific criteria:
– Durability – No matter what kind of weather conditions your courts are exposed to, these lights must remain undamaged. They should be sturdy and able to handle high winds, snow and ice. It is advisable to go with fixtures that are made of stainless steel for this reason.
– Optimal lighting – The light quality on your court will depend on the materials used in the fitting's manufacture. Most commercial fixtures will provide the correct illumination. Still, if you want to be 100% sure, it is advisable to go for a fixture that has been designed specifically for tennis lighting.
– High quality – Since your lights will remain in place for an extended period of time, they must be built from top-grade materials and have a high degree of workmanship. The electrical systems should be carefully installed and concealed to give a sleek, professional look.
– Ease of use – Tennis Court Construction Portsmouth recommends that you select fixtures that are easy to install and control. They should be operable with no special tools or knowledge required.
As the name implies, Portable lights can be moved from one place to another on your court. These will provide a temporary lighting solution.
While they can be effective, portable lights do have several drawbacks:
– Poor light quality – Portable floodlights are relatively ineffective, and the lighting is usually unsatisfactory. They can create hot spots which can affect your court's appearance as well as the playing conditions.
– Difficult to install – Although tennis courts usually have power outlets installed near their perimeter, you will need to consider this when installing a portable fixture.
– Required regular maintenance – Portable lights are often expensive and cannot be left unattended for too long before they malfunction. You should keep them charged, which can be cumbersome if you have many courts and play regularly at different times of the day.
Portable lights are best used where permanent lighting is not possible. Tennis court floodlights are usually powered by 240 volts AC or by low voltage DC power sources. While the former option will provide more light, the latter can be advantageous for locations with no access to the main power grid.
To find out more about floodlights for tennis courts, contact us today to discuss your needs.
Tennis court fence
At Tennis Court Construction Portsmouth, we make sure that we provide you with quality products. We understand how important fencing is for your tennis court, and we only use the best.
Fencing around the tennis court ensures that people don't accidentally fall onto the tennis court and also keeps out kids and pets so they can't play on it either. We provide all types of fencing to fit your needs.
We use only durable materials that will stand the test of time. We're experts in the industry and can provide you with any fencing you need for your tennis court.
Contact us today for a free estimate on fencing installation. We look forward to hearing from you soon!
Tennis court landscaping
If the surrounding area of your tennis court requires landscaping, then we can help with that too. Tennis Court Construction – Portsmouth offers landscaping services for all of your tennis court's needs.
Let us come and take a look at what works you require, and we'll provide you with an estimate. We want to make sure we do the best job possible for all of our clients.
We carry out residential and commercial work, so don't hesitate to contact us if you need landscaping works for your tennis court.
Tennis court services near me
We cover a large area and are used to travelling! This includes Hampshire, Dorset, West Sussex, parts of East Sussex, and Surrey. If you found us by searching for ' Tennis Court Builders near me, ' then we will most likely cover your area.
Please feel free to call or message us anytime to discuss your needs and arrange a free onsite survey.
Our other tennis court services
New Tennis Court Construction
MUGA Court Construction
Tennis Court Resurface
Other Tennis Court Services
As well as serving customers in Portsmouth, we also cater for our clients in Alton.