Tennis Court Construction
New tennis court, Hampshire | Dorset | Surrey | Sussex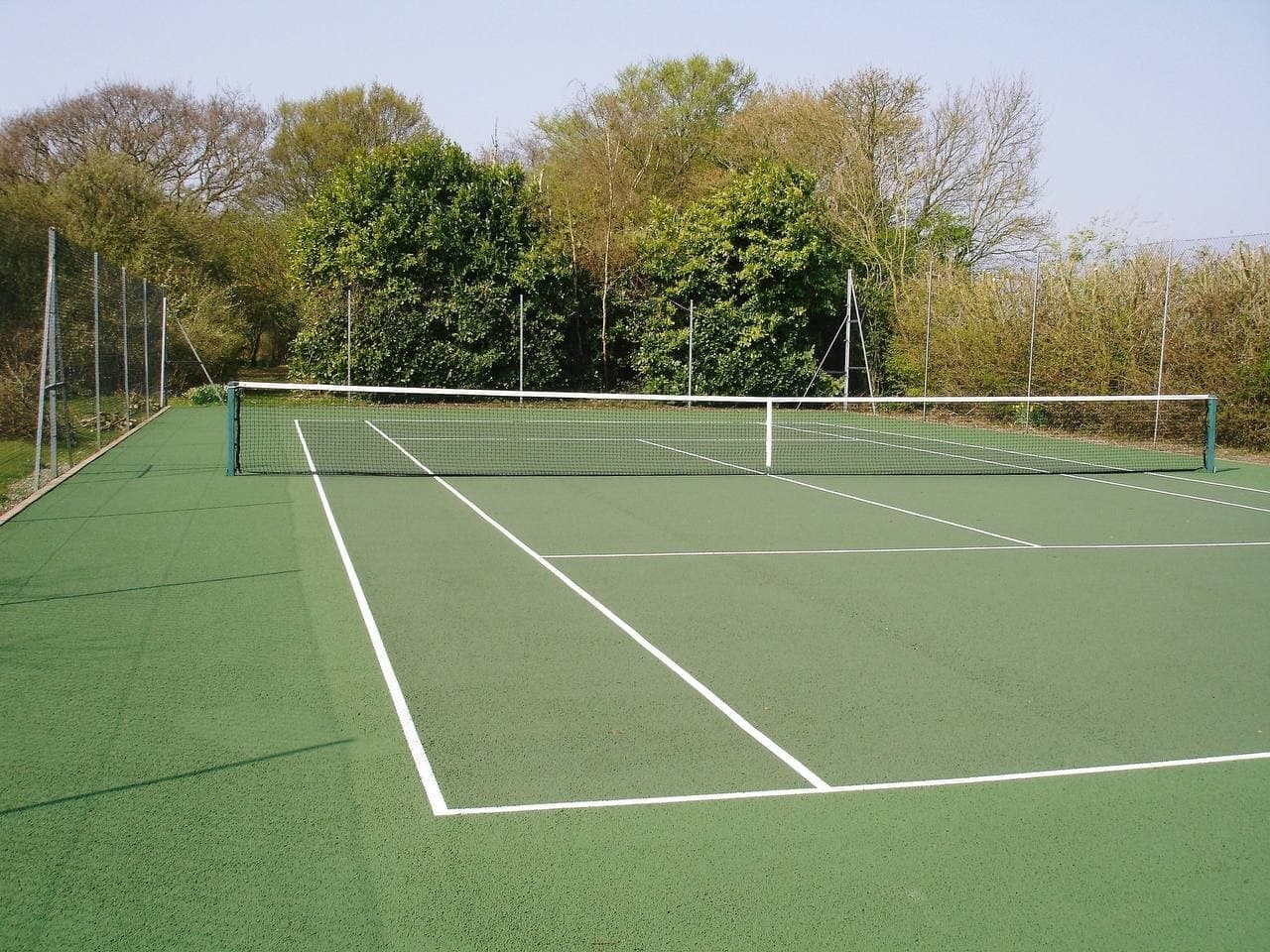 Tennis Court Construction Hampshire
A tennis court is something that has so many benefits. Along with promoting a healthy lifestyle and offering you, your friends, and your family the opportunity to enjoy time together, it can also add value to your property.
As with any project of this size, it is essential to make sure that everything is planned out from start to finish. This is where we can help. From initial survey to project completion, we can take care of everything and ensure your new court is delivered to the highest possible standard.
Many things need to be considered before site build commences. These include things that are sometimes overlooked, such as making sure there is suitable drainage and also making decisions on the court ground finish, fencing type, and spotlight requirements, to name just a few. We will be able to fully advise you of all of these things when we carry out an initial survey. It will allow you to express any requirements or concerns so that we can make sure everything has been addressed and all your needs are being met.
Tennis Court Installation
When it comes to tennis court installation, there's no one better qualified to take the project on than Tennis Court Construction Portsmouth; we've been installing new courts and resurfacing existing ones for clubs, schools, and private homeowners for many years. We're proud of our record in successfully delivering many quality installations.
With decades of experience under our belt, you can rely on us to provide the highest standard of service for your project – whether you're looking to install a new court or resurface an existing one, then we have you covered.
We're experts in tennis court installation, but what you might not realise is that there's a lot more to it than just putting down the surface and lines – so here are a few things to consider when your project commences:
Drainage
Fencing requirements
Lighting
Court ground finish
These are just a few things that might be relevant when it comes to your individual installation. For more advice on our tennis court installation, please get in touch today.
How is a tennis court constructed?
First, the area must be cleared. Before construction begins, trees and other obstructions are removed to ensure safety and provide room for installing an access road to the site.
The next step is excavation; this process removes excess soil to create a level playing surface. The base or sub-base is then constructed to prevent settlement and ensure that the playing surface is level. The sub-base is composed of a particular type of crushed stone or gravel. In areas where the soil is not well-drained, installing an under-drain system to collect water from the playing surface may be necessary.
After the sub-base has been adequately prepared, the court is constructed using tile and cushioning materials. Installing the court surface is a crucial step, as its surface determines the playing qualities of the court. The tile is laid down in a herringbone pattern with seams staggered to minimize ball impact. After the tiles have been installed, the perimeter tiles are filled and compacted to ensure they do not settle or subside.
Lastly, an installation strip is applied to the edge of the court to create a solid surface. The installation strip, if properly installed, will prevent courts from cracking and reduce the loss of tiles caused by subsidence or settlement. A typical example is that of an uneven sub-base causing high spots on your new tennis court. Often this may cause the edges and corners of the court to feel hard. This will lead to a poor bounce and can damage both your tennis shoes and your body.
In addition, improperly compacted sub-bases can cause problems with water run-off from the courts' edge. These high spots may also present themselves as odd or irregular lumps on the court's surface, which can be very destructive to tennis shoes. Tennis Court Construction Portsmouth will not only level your sub-base, but we will install a proper underdrain system and a geotextile layer on areas with less than desirable soil conditions.
A regular maintenance schedule is essential for keeping your court in top condition. This schedule should include weekly brushing, watering and rolling of the surface. In addition, regular cleaning of your court is a must to remove all buildup from the court surface and contamination from shoes and the surroundings. This should be done as often as needed, but at least weekly for best results this will help to prolong the life of your court surface.
Winterizing your court is also crucial in maintaining the quality of your playing surface. By adequately preparing for harsh winter conditions, you can significantly increase the life span of both your court surface and installation strip. Mixing different types of sand with gravel on your sub-base layer will harden the court surface enough to prevent cracking. This sand mix will also help with water run-off, which will reduce the amount of snow and ice that builds up on your court while protecting against frost heave.
The installation strip applied to the edges of your tennis court is critical for several reasons. The main reason being that it ensures a solid, even and continuous surface around the court. This installation strip will also extend the life of your court by reinforcing it against damage from both player and vehicular traffic along with protecting against frost heave, which can degrade the quality of your playing surface
Tennis Court Construction
Whatever your tennis court construction needs are, we can help.
Our team of experienced professionals will work with you to determine your budget, design, and timeline for your new tennis court.
We have the knowledge and experience necessary to build your tennis court from start to finish. We will provide you with a professional-quality surface that will give you an advantage over your opponents. This is what sets us apart from all other builders.
Tennis Court Builders near me
We cover a large area and are used to travelling! This includes Hampshire, Dorset, West Sussex, parts of East Sussex, and Surrey. If you found us by searching for ' Tennis Court Builders near me, ' then we will most likely cover your area.
Please feel free to call or message us anytime to discuss your needs and arrange a free onsite survey.
Our Tennis Court Services
New Tennis Court Construction
Tennis Court Resurface
Other Tennis Court Services